Choosing an appropriate therapist

Many people who seek relief from physical pain and emotional stress turn to therapeutic and remedial massage or myotherapy.

However, knowing which therapist to use is important because not all therapists are the same. Making sure that your therapist has the right qualifications and experience to treat your condition is the first step in achieving the results you are looking for.

To help you, the Australian Massage Directory provides a list of professional therapists across Australia and their services. These therapists are formally trained and tertiary qualified and have undertaken between 850 to 1,300 hours of supervised training.

The Massage Directory includes consumer information explaining the various modalities and techniques used in massage and myotherapy, and their applicable pain and stress conditions. It also outlines adjunct or complementary services such as aromatherapy, which therapists can use to enhance the client experience.

Importantly, the relevant qualification equates to the type of treatment your therapist can offer.

As a guide, therapists who provide therapeutic massage for people looking for relaxation and stress relief should hold a Certificate IV in Massage Therapy Practice.

For injuries and soreness, your therapist should hold a Diploma of Remedial Massage. Remedial Massage Therapists are trained to assess and treat muscles, tendons, ligaments and connective tissue.

For those living with chronic pain of musculoskeletal conditions, myotherapy treatments can be effective. Myotherapists should hold an Advanced Diploma of Myotherapy or Bachelor of Myotherapy.

Myotherapists are trained to employ a variety of treatments for use in pain management involving chronic musculoskeletal conditions, postural conditions, and sporting and occupational injuries. They are also trained in using advanced assessment and treatment protocols.
What to expect from a professional therapist
You should always feel comfortable with your therapist.

When you meet for the first time, your therapist should ask you a series of questions and take notes.

Part of this process means signing an 'Informed Consent' form, so you understand what kind of treatment you will receive; this is a legislative requirement.

If you feel uncomfortable, or your potential therapist is not communicative, it may be a good idea to search for an alternative.

When you have agreed on your treatment, your therapist should briefly explain disrobing, which should only involve removing an item of clothing that you feel comfortable removing.

Massage & Myotherapy Australia recommends appropriate full draping during any massage treatment and, unless modality-specific, there is no requirement for any area other than that being treated to be exposed.

Ask your therapist what draping technique they will be using. If your therapist cannot help, we suggest you reconsider your decision and move on.

Every therapist has the right to make the decision as to the appropriateness of the draping and positioning of both male and female clients. However, decision-making and draping protocols should be consistent in context with the treatment, the pathology, within the scope of practice of the practitioner, and in consultation with the client.

You can find more information on Appropriate Draping by reviewing the document below and by watching a series of Media created around Draping.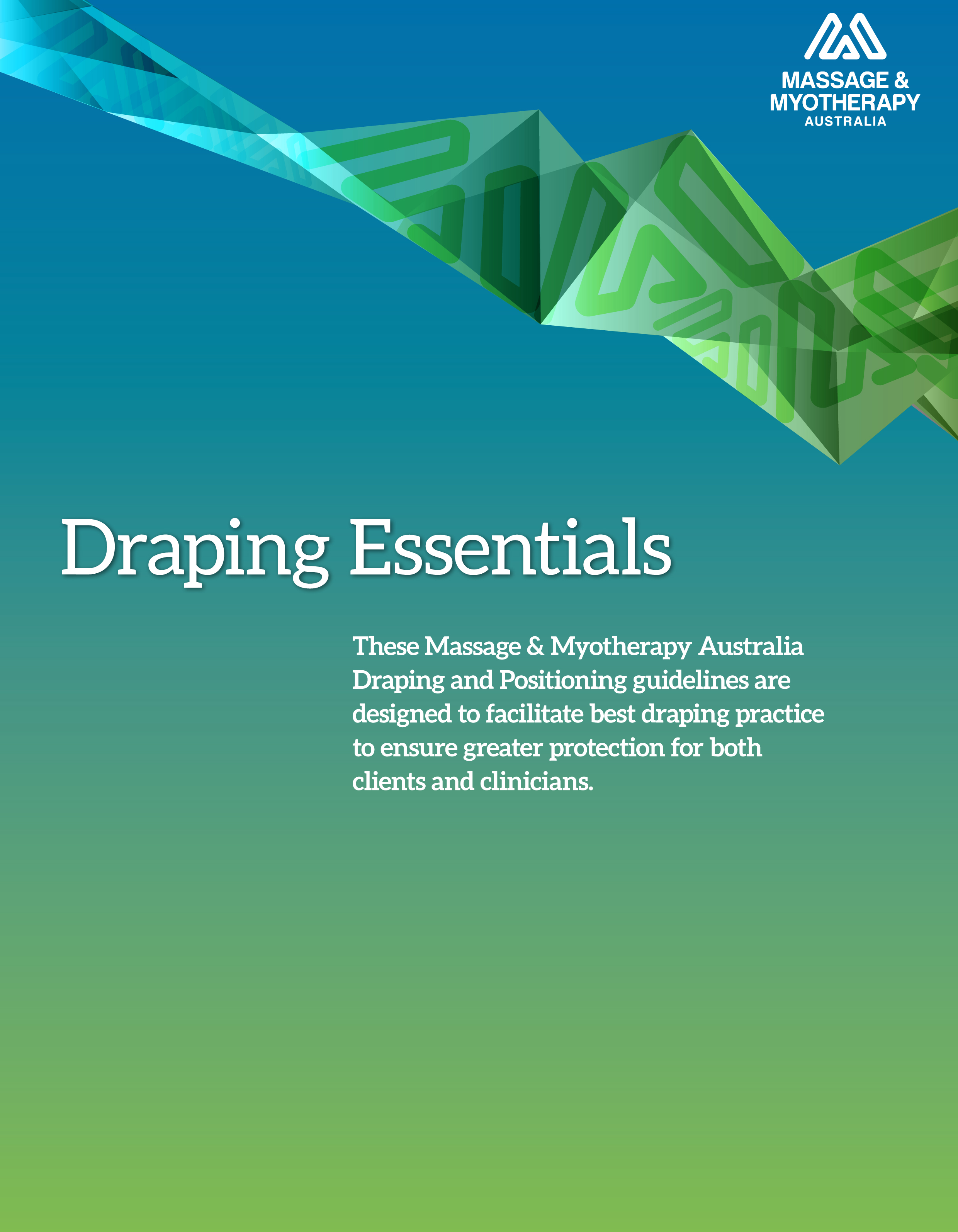 Massage & Myotherapy Australia Draping Essentials